East Greenbush Central School District recognized its 2015-16 Volunteers of the Year at Tuesday evening's Board of Education meeting at Red Mill Elementary School. These selfless individuals were honored for giving their time and talent to make our schools more vibrant learning communities.
The evening began with the Red Mill 5th grade chorus singing "God Bless America" and "Over the Sea to Skye" under the direction of music teacher Jacqui Nagy.
During the volunteer recognition ceremony, each honoree was introduced and received a certificate and heartfelt thanks from Superintendent Dr. Angela Nagle.
"They have given unselfishly of their time to work with staff, school programs or directly with students," Dr. Nagle said. "We know that our schools and programs would not be as successful without volunteer support."
Donald P. Sutherland Elementary School
Judy Markessinis
Volunteered in Lisa McDonald's classroom for over 15 years
Makes math fun for students so they can understand challenging concepts with her support and guidance
The boys and girls look forward to the time she spends with them on a weekly basis
Green Meadow Elementary School
Monica Ray
Volunteered for the PTO After School Enrichment Program for the past eight years, serving as chairperson for the past five years
Under her leadership, the program has improved and expanded greatly with more than 125 students participating this year
Spends countless hours recruiting volunteer instructors, registering students, and communicating with PTO officers and faculty members to make this program successful
Citizen Genet Elementary School
Maura Przybylek
Coordinates the PTO's "Explore and Grow" after school enrichment program
This program provides exploration in a wide variety of topics and classes for approximately 250 students in four-week sessions in both the fall and spring
Assists Grade 4 students with additional math practice and homework help on Wednesday afternoons after school
Bell Top Elementary School
Devon Baird
STAR Volunteer in Carol Adams' kindergarten classroom for 13 years
Assists with Mrs. Adams' student centers, files materials in students' folders, and types schedules and planning sheets
Helps students while they are on classroom computers, organizes and prepares classroom supplies in order to optimize all available instructional minutes
Patty Persell
Supported numerous initiatives over the years at Bell Top Elementary School, including the yearbook, YMCA Night, Ice Skating and Spring Fling
Organized annual Education Fair where all 5th graders present their state projects and many other students share their work and talents
Vital member of Bell Top's Wellness Team contributing to many staff and school-wide initiatives as well as being a tremendous resource for our staff
Donna Gruett (not pictured)
Volunteered in Melanie Lyte's classroom for over 10 years
In addition to working with small groups of students, Donna helps to organize Mrs. Lyte's annual 1st grade play and pancake dinner
Red Mill Elementary School
Angie Kirkland
STAR Volunteer for the past 20 years
Assists the school nurse, Mrs. Anne Warrington by filing and organizing materials
Angie's up-beat personality, her smile and her positive manner have helped calm countless children and adults who have come to our very busy health office over the years
John Kaplan (not pictured)
Owner of Red Kap Sales, a supplier of Exxon/Mobil, has provided Red Mill with a total of $4,000 in grants over the past eight years to use toward math and science instruction
This funding has been used to purchase microscopes, safety goggles and equipment for the TV studio
Howard L. Goff Middle School
Angel Schweigert
Volunteered for the PTO for the past five years, assisting with activity nights, Winterfest and serving as a chaperone on the Philadelphia and Washington, D.C. field trips
Organizes the Winterfest raffle baskets which provides funding to defray the cost of field trips
Columbia High School
Joe McCabe
Volunteered with the Columbia varsity wrestling program for the last 10 years
Retired U.S. Marine, school teacher and athletic director and a National Wrestling Hall of Fame member shares his experience with student athletes
Athletics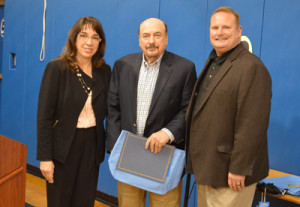 Richard Schwarz
Volunteered for Columbia All-Sports for 18 years, serving as the president for the past 8 years
Involved in many different activities including the Kickoff Barbecue, pasta dinner, homecoming dance and Athletic Hall of Fame Celebration
Curriculum & Instruction
Arthur Sanderson and Mike Rubinstein (not pictured)
 Long term community members who have served on the District Technology Committee
They help develop plans for professional development related to technology, purchasing of instructional hardware and the submission of required New York State Department of Education Plans
School Business Finance
Janet Lento
Volunteered for the Budget Review and Advisory Committee since 2010
Provides positive input on budget discussions and current topics