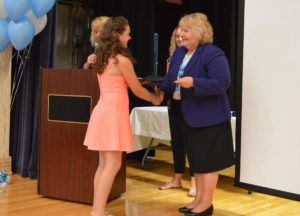 Fifth grade students at Citizen Edmond Genet Elementary School took the stage one final time on Wednesday as part of their Moving Up Ceremony.
Each student received a graduation certificate from Principal Ana Yeomans, walked to the center of the stage, faced the audience and took a bow, wrapping up their elementary school career. They will attend Howard L. Goff Middle School in the fall.
"We are so proud of our Grade 5 students as they prepare to end their elementary school experience," said Principal Ana Yeomans. "These students are people of great character and kindness. We know that they will be great role models for others in always doing what is right. They will be greatly missed at Genet!"
Students were recognized with awards for educational excellence, educational achievement, citizenship and art.
President's Award for Educational Excellence
GPA of 90+ and high achievement in reading or math
Matthew Alaxanian
Akshat Arinav
Jacob A. Baker
Jake P. Baker
Logan Buckley
Natalie Faas
Madeline Gruber
Henry Heeps
Emily Koenig
Tanner Malone
Akkhil Morkonda
Rachel Ostiguy
Kaelyn Pagones
Jake Tucker
Evan Witte
President's Award for Educational Achievement
Demonstrates tremendous growth and achievement in the arts such as music or theater
Max Armando
Sophia Bissaillon
Hayley Clark
Zane Fermon
Maliha Ghani
Chase Hausler
Aiden Laurange
Kaitlyn Lever
Myles Mahar
Helen McHugh
Adeline Nizer
Evan Palmateer
Reese Palmateer
Taylor Quinn
Callia Regensburger
Citizenship Award
Participates in school and/or community service, shows a positive attitude, possesses strength of character and exhibits exemplary behavior
Estreya Bennett
Laney Broglio
Henry Heeps
Samantha Joseph
Mark Kamauff
Kaili Lagenbach
Myles Mahar
Melena McDonald
Lia Natale
Adeline Nizer
Kaelyn Pagones
Katelyn Snide
Jake Tucker
Three students had artwork selected for the Genet art gallery, which was created 16 years ago.
Maliha Ghani
Tanner Malone
Akkhil Morkonda