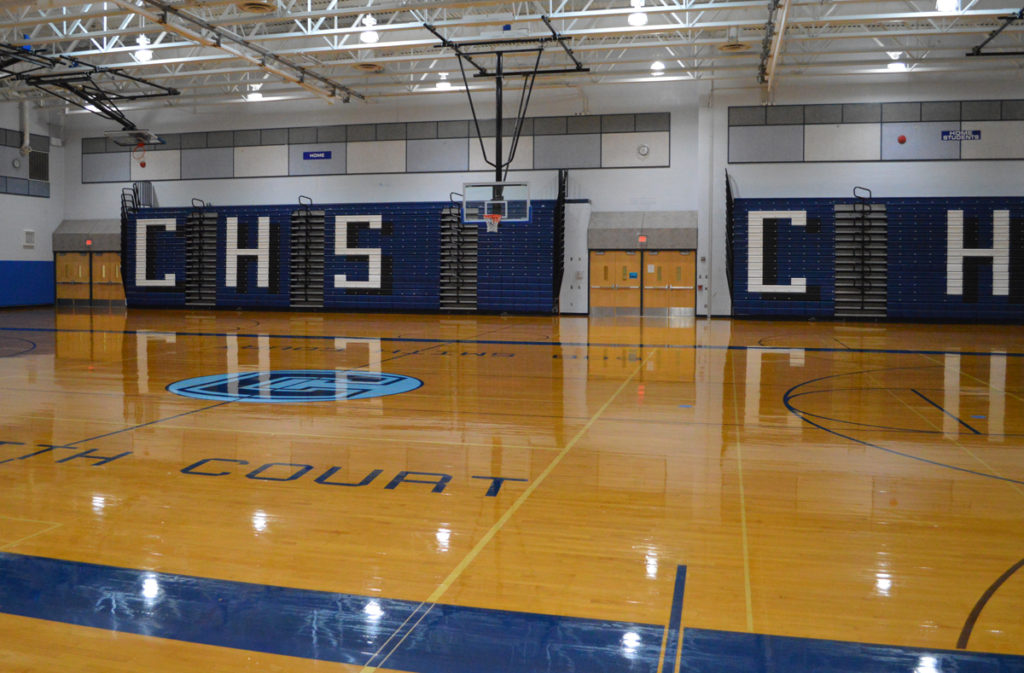 Students will be coming back to a much brighter gymnasium at Columbia High School when school starts in September. Three dozen old bulb lights were replaced with high-efficiency LED lights by the District's Buildings and Grounds department over the summer. The lights provide a brighter space and will save the District thousands of dollars.
"It's the biggest impact we can have – energy savings," said Jim VanBuren, Columbia's supervising head custodian. He, along with Head Maintenance Mechanic Matt Banks and Groundskeeper Bob Robinson, researched the new lights and then used a lift to replace the old bulbs.
"It was very much a team effort," Banks said.
The District received a $3,258 rebate check from National Grid and will see annual savings of more than $3,000 in electricity and maintenance costs. By doing the work in-house, the District avoided using a contractor which estimated the work at $50,000.
Each of the old bulbs weighed 50 pounds, and when they needed repairs in the past, it took two hours to replace. The new lights take seconds to simply screw in. They also flip on immediately, as opposed to the warm-up time the old bulbs needed.
"This was employees taking initiative," said Buildings and Grounds Supervisor Brian Craft.
The success of the project will be clear to see during Columbia athletic events and the daily use for physical education classes.
"It's a great upgrade," said Athletic Director Michael Leonard. "Everybody will see the difference."