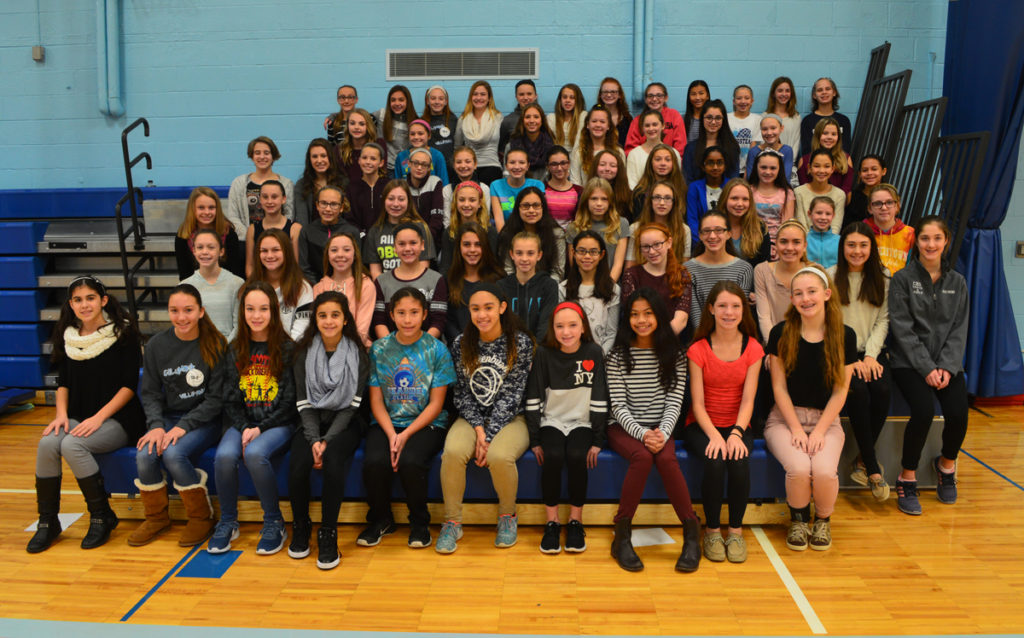 Girls participated in the President's Challenge Physical Fitness Program in their PE classes this fall at Howard L. Goff Middle School. The program includes five activities that measure muscular strength and endurance, cardio-respiratory endurance, speed, agility, and flexibility.
Students who scored in the 85th percentile of the test earned Presidential Awards and students who scored in the 50th percentile received National Awards.
The boys will be announced in the spring.
Presidential Award Winners
6

th

 Grade
7th Grade
8th Grade
Sarah Bayly
Samantha Digman
Madeline Endres
Camdyn Erwell
Erin Dougherty
Hannah Grill
Taylor Quinn
Vincenza Sano
Aryonna Hansen
Arrica Silliman
Juliana Slawson
Devyn Jenks
Seana Weerakoon
Shea White
Ciara Mazzone
Kaitlyn Mowry
Keelin Needham
Emma Tobin
National Award Winners
6

th

 Grade
7

th

 Grade
8

th

 Grade
Lillian Alessi
Tessa Burke
Katharine Asenbauer
Grace Dyer
Taylor Childs
Alexis Bertrand
Natalie Faas
Alicia Cioffi
Stephanie Bradbury
Clara Filiault
Gabriella Coleman
Olivia Brock
Abigail Heeg
Morgan Cook
Heather Bryant
Megan Kelson
Julia DelPozzo
Sara-Kate Burdick
Emma Marchiony
Sofia DelPozzo
Elizabeth Cohen
Alaina Marino
Lily Gowie
Autumn Conzone
Abigail Moxon
Juliana Graziano
Cindee Cornwall
Tori Patrissy
Paige Hausler
Jenna Drummond
Destiny Ruiz
Jordan Jakielaszek
Jessica Dryzmala
Zoe Sheridan
Jenny Jimenez
Brooke Fennell
Renaya Kelly
Abigail Hansen
Miranda King
Ava Johnson
Maddie Knapp
Lillian Kearby
Sierra Krebs
Isabelle Koblensky
Brittany Linden
Abigail Mahar
Kendra Lownsbury
Brigitte Montalvan
Rachel Massey
Isabella Parrotte
Jordan Miller
Alyssa Pitcheralle
Aruen Mae Molina
Julie Premo
Sophia Pallozzi
Megan Sousa
Rachel Parry
Autumn Smith
Kaiden Ring
Megan Washock
Maria Rybakov
Wendi Wojnovich
Braelyn Severson
Allison Silliman
Jaelyn Stanton
Cailyn Thorpe
Nova Vath
Sierra Weaver
Bailey Williams