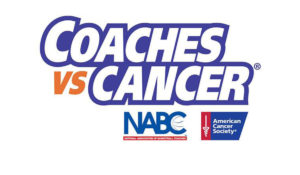 Columbia Boys' Basketball program will be hosting three games against Shenendehowa to support Coaches vs. Cancer on Friday, January 26 from 4:15-8:00 p.m. in the Columbia gym.
Players in the basketball program have been collecting donation pledges which will be recognized on the Wall of Hope in the high school gym. Donations will also be accepted during the games.
Parents and faculty members are donating baked items to sell at the event. All donations and half of the money collected from the sale of baked goods will be donated to the American Cancer Society through Coaches vs. Cancer.
The East Greenbush Basketball Association youth groups will provide halftime entertainment for spectators.
Coaches vs. Cancer Schedule – Friday, January 26
Freshmen – 4:00 p.m.
JV – 5:30 p.m.
Varsity – 7:00 p.m.