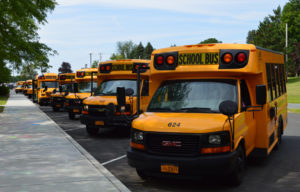 East Greenbush Central School District has proposed the replacement of 10 older school buses and the creation of a new bus purchase reserve fund for the 2018 Budget Vote and Board Election on Tuesday, May 15.
As part of the District's bus fleet management plan, it plans to trade-in 10 older school buses and replace them with new buses that have better fuel efficiency, lower emissions, improved safety features and lower costs for maintenance and repairs.
Nine of the buses would be purchased from the District's bus purchase reserve fund with no impact to taxpayers. The final bus would be purchased through a bond referendum with the first payment coming in 2019-20. The district would be reimbursed for approximately 62.5% of the total school bus purchase.
"Our first priority is keeping our students safe," said Transportation Supervisor MaryAnn Belmont. "We accomplish that by keeping our fleet in good, operating condition. A newer bus is less costly to maintain and provides the safest, most reliable transportation for our students and staff."
The new bus purchase reserve fund would replace the current fund, which was authorized by voters in 2010, but needs to be replaced because it has reached the limit of $5 million in deposits over its life under state law.
A bus purchase reserve fund acts like a savings account, allowing the district to store money for the sole purpose of purchasing buses. It also helps the district avoid the costs that come with borrowing.
"Our parents and families are entrusting the school district, not only to educate their children, but to make sure when we pick them up each morning and we drop them off each afternoon, that we do so safely and responsibly," Superintendent Jeff Simons said. "That's why the purchasing of new buses is critically important to our schools."
What's On the Budget Vote and Board Election Ballot
Proposition 1: School Budget
Proposition 2: Authorize $652,498 from bus purchase reserve fund for nine buses
Proposition 3: Allow the district to issue bonds to purchase a 10th bus at a cost of $113,742
Proposition 4: Approve creation of a new bus purchase reserve fund for future bus purchases
Election of four members to the Board of Education