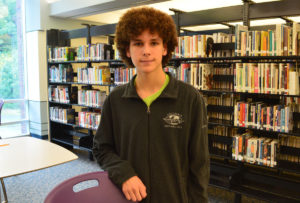 Columbia High School senior Sam Koblensky was named a National Merit Scholarship semifinalist on Wednesday after scoring in the top 1 percent of the 2018 PSAT/National Merit Scholarship Qualifying Test. Only 16,000 students were named semifinalists out of more than 1.6 million who took the test nationwide.
Mr. Koblensky is now eligible for National Merit Scholarships which will be awarded in the spring.
"I was pretty happy about it. Not many people get to that point," Mr. Koblensky said.
Mr. Koblensky is one of the top students at Columbia with a 4.0 GPA. He competes on the Columbia Science Olympiad and Math League teams, and plays in the school Jazz Band.
"Sam is a dedicated student who has continually challenged himself academically here at Columbia," said Principal Michael Harkin. "When Sam is not working hard in the classroom he shines as the lead saxophone in the jazz band and a member of the nationally recognized Science Olympiad team."