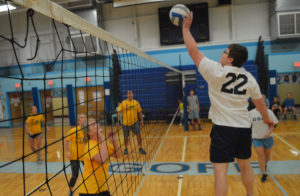 Teachers from around the district will be representing their schools in the 6th annual Faculty Volleyball Battle on Thursday, November 1 from 4:00-7:00 p.m. in the Goff Middle School gymnasium.
Each teacher is donating $10 and a canned good for participating. Donations will go toward the PE Sports Club and local food pantries.
Students and their families are invited to cheer on their schools at this fun event. Admission is free and donations will be accepted at the door. Seating will be limited because the bleachers will not be pulled out.
Faculty Volleyball Battle Champions
2017 – Goff
2016 – Columbia
2015 – Columbia
2014 – Bell Top
2013 – Goff