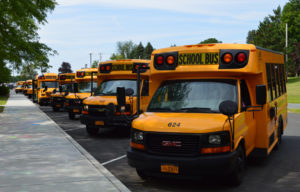 All district schools will dismiss 15 minutes early on Friday, November 8 for a state-mandated Emergency Go Home Drill. This drill must be completed at least once each school year, and it must not occur more than 15 minutes prior to the normal student dismissal time.
This drill is designed so that our district can practice our procedure for transporting students home in the event that inclement weather or a similar disaster affects our schools.
All students will be dismissed to the location parents have indicated on the Student Verification Form in case of an emergency closing. Please be sure that any changes to your child's emergency drop off location are made by November 6. Emergency dismissal locations for elementary school students must be within the attendance zone of the school they attend or to an approved/licensed daycare.
In the event that you need to contact a school after its dismissal time, please call (518) 477-9288. You will reach the Transportation Department that will be acting as the emergency command post that would be activated if a real emergency occurred.
In the event of a real emergency, parents would be notified through our SchoolMessenger notification system (phone/text/email) and messages would be posted on the district website and social media channels.
This emergency drill, along with fire, lockdown, lockout and bus safety drills, are part of a continued effort to keep our students and staff safe. If you have any questions about this drill, please contact your school. Thank you for supporting our safety preparedness.
Columbia High School
962 Luther Road
East Greenbush, NY 12061
Phone: 518-207-2000
Howard L. Goff Middle School
35 Gilligan Road
East Greenbush, NY 12061
Phone: 518-207-2430
Bell Top Elementary School
39 Reynolds Road
Troy, NY 12180
Phone: 518-207-2600
Donald P. Sutherland Elementary School
4 John Street
Nassau, NY 12123
Phone: 518-207-2620
Citizen Genet Elementary School
29 Englewood Avenue
East Greenbush, NY 12061
Phone: 518-207-2680
Green Meadow Elementary School
234 Schuurman Road
Castleton, NY 12033
Phone: 518-207-2640
Red Mill Elementary School
225 McCullough Place
Rensselaer, NY 12144
Phone: 518-207-2660