East Greenbush Central School District has been compiling and analyzing data regarding academic achievement, attendance, graduation rates and post graduation success in an effort to improve the education offered to all its students. The district made that data public by presenting a report at the Board of Education meeting on October 16.
The report was presented by Assistant Superintendent for Curriculum and Instruction James McHugh.
"I am confident that we have access to more data than ever before," Mr. McHugh said during the presentation. "I could simply present the data that makes us look great as our student achievement data remains strong, however, some of the data in this presentation focuses on the things that we don't typically look at but they are the critical factors that help to promote overall growth. This data is intended to create greater awareness regarding the areas that are critical for us as a school district to remain student-centered with the overarching goal of best meeting all of our students' needs."
Kindergarten Readiness
At the beginning of the school year, all elementary students are given a Universal Screening Assessment by teachers. Nearly 3 out of 10 kindergarten students currently qualify for Academic Intervention Services. The early identification of these students helps us to provide additional services such as additional reading support, speech therapy or other services based on documented needs.
This data is critical in knowing where best to assign staff based on student and building needs. In particular, it allows us to quickly assess our students' Kindergarten Readiness including their exposure to print. The data could also justify our district's exploration of adding a Pre-K program in school locations that have consistently demonstrated the need for earlier school exposure.
ELA/Math Proficiency
All five elementary buildings and Howard L. Goff Middle School far exceeded the average NYS proficiency scores in all tested grades (3-8) in both English Language Arts and Mathematics this past school year. In particular there was significant growth in the area of mathematics which could be in part attributed to the new board-adopted primary instructional resource which was implemented in grades K-8 in September 2018 along with the ongoing curriculum mapping, curriculum writing, and professional dialogue amongst our faculty members.  
In the area of English Language Arts our students are performing well; consistently above other districts located within our Questar BOCES and Regional Information Center and at some grade levels but not all above the Suburban Council average proficiency mark. 
Growth is sporadic in areas such as our Students with Disabilities and within our Economically Disadvantaged Student cohort groups. This relevant data will be monitored closely this year as faculty and administrators engage in a Five-Year Program Review for Special Education and Related Services. The data also shows that student achievement for all students, especially with our cohort of economically disadvantaged students is very closely connected to student attendance. Our students identified as "Chronically Absent" (missing 10% or more of school) perform significantly lower than our "All Students" category.
Regents Exam Success
Columbia High School's Regents results continue to be strong. In particular Columbia students had a 100% passing rate on the June 2019 Algebra II exam and a 98.10% passing rate on the Geometry exam. Departments continue to work and prepare for the transition to the Next Generation Learning Standards and the new examination in Global History and Geography (New K-12 framework for Social Studies). Regents data as well as other information is used to review and discuss topics such as course selection sequence, pre-requisites and class groupings.
Excellent Graduation Rate Continues
Columbia's graduation rate for the 2018-19 school year was 96.5%, which is well above the state average. Specialized programs such as Jump Start, Columbia's Alternate Program, Operation Graduation, and the Center for Therapeutic Academic Excellence Program (CTAEP) supports students in achieving academic success and were highlighted recently at the New York State School Boards Association Convention in Rochester, N.Y. The district is continually reviewing and monitoring courses in an effort to increase student engagement and achievement.
Chronic Absenteeism
Most children miss a few days of school each year without long-term consequences. However, when they miss many days, the effects are almost always negative. Chronic Absenteeism has been established when a student misses 10 percent of school days, and it is different from truancy, which counts only unexcused absences.
According to district data, Students with Disabilities, English Language Learners and Economically Disadvantaged students miss twice as many school days as their peers. Students classified as homeless miss more than three times as many school days as their peers.
The district is addressing this issue with an increased focus on student support systems, staffing, and increasing student connectedness, such as phone calls to parents/guardians and home visits. Just this year, the district has added an additional school psychologist, an additional school resource officer, and has increased staffing for English Language Learners based on an increase in student enrollment in that particular area. And the district has launched the Attendance Matters campaign to inform families of the importance of student attendance every day.
Lack of Attendance Correlates to Course Failures
Approximately 7% of Columbia High School students failed more than one class in 2018-19. Of those students, more than half were classified as Chronically Absent from school, meaning there is a direct correlation between attendance and student achievement.
Delay in High School Graduates Applying for College
Over the past eight years, an average of 78% of Columbia students enrolled in college immediately after graduation. That number increased to 84% when looking at students who enrolled in college at any time during the first two years following graduation.
Why are some students not immediately enrolling in college? Is it the application process, is it personal choice, is it a financial issue, is it uncertainty regarding what they think they may want to do? The district will try to answer those questions by analyzing Columbia's Life Track Survey Data, which is a survey given to seniors upon graduation and then again 18 months after graduation and five years after graduation. That survey began with the Class of 2018.
Freshman to Sophomore College Persistence
From 2011 to 2016, an average of 87% of Columbia graduates continue from freshman to sophomore years of college. The data also shows that part-time students are less likely to graduate than full-time students.
The district can use the Life Track Survey to learn why more students don't complete college (e.g., financial hardship, homesick/social emotional wellness, etc.).
The most frequently attended college by Columbia graduates is HVCC. The data also shows that there is an overall increase in student enrollment at HVCC in year 2 following their high school graduation, meaning that there is a percentage of our students that either return home to attend HVCC or delay their college enrollment for a year following their high school graduation.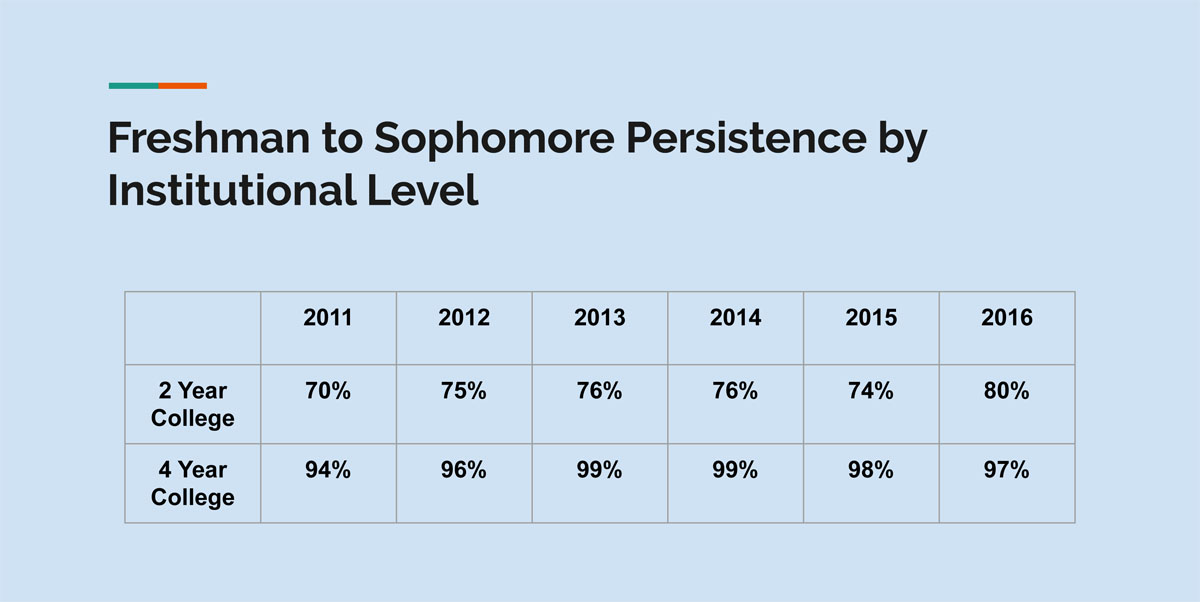 6-Year College Graduation Rate Falls Below National Average
For the first time in years, Columbia students' six-year college graduation rate fell below the national average. Columbia's Class of 2011 (most recently available data) had a 57% college graduation rate in six years compared to the national average of 60%. This indicates we need to evaluate how students are prepared for college. Do students and families know all of the post-graduate options (2-year, 4-year, certification programs, etc.). Are students making informed choices? 
Over the past few years we have been closely collaborating with colleges as well as business and industry leaders. We know that some of the top challenges students encounter at college include passing the required math classes. School administrators have emphasized the importance of taking a math class during senior year because, nationwide, college students have deficient math skills. We are pleased to report that approximately 94% of seniors are enrolled in a math class this school year.
Students have also experienced challenges managing social-emotional wellness issues; self-management, relationships, etc. The school district has attempted to address that by integrating more soft skills into the K-12 curriculum, such as collaboration, communication and empathy skills.
School is a Place for Learning
The number of Columbia students with late arrival or early dismissal has decreased from 161 students in 2018-19 to 100 students in 2019-20. This means more students are receiving more of an education. And, as stated above, approximately 94% of seniors are enrolled in a math class this school year. Traditionally students complete three years of required mathematics so they may have a gap of 12 to 24 or more months without any formal instruction in math before having to take a required course in mathematics at the college level.