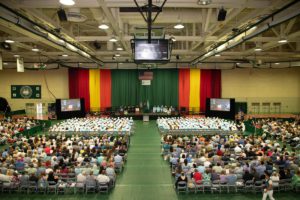 The start time for the Columbia High School graduation ceremony scheduled for Saturday, June 27 at the McDonough Sports Complex at HVCC has been changed from 1:00 p.m. to 10:00 a.m.
The change is being made so Columbia's graduation ceremony is the first of the day at the venue. In past years, Columbia's ceremony has followed other schools, which leaves a short amount of time to change seating and stage setup, perform audiovisual checks and for the preceding school's graduates and guests to vacate the parking lots.
The earlier start time will also allow for cooler temperatures inside the venue and more time for graduates and their families to celebrate after the event.
Visit www.egcsd.org/graduation for more information about Columbia's graduation ceremony.