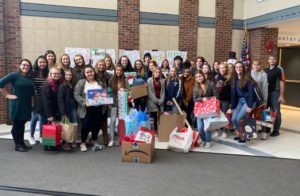 Columbia Cheerleaders and Leaders of Tomorrow Leading Today visited 32 preschool students last week at Saint Anne's Institute. The Columbia students bought presents for the preschoolers, exchanged gifts and spent quality time playing with them.
"This is such a memorable day for our little ones!" said Preschool Program Administrator Theresa Devane.
For many of the preschool students, these gifts are the only gifts that they receive this holiday season.
"The smiles stretching from ear to ear and the palpable excitement and pure joy in the classroom truly captured the spirit of the holiday season," said Columbia Cheer Coach Christince Kawczak.