All this week we're reflecting on 2019 and the great moments from the East Greenbush Central School District. Here's a look back at some of the biggest accomplishments by our students over the last 12 months.
Columbia Science Olympiad Places 11th at National Championship
Columbia placed 11th out of the 61 competing teams at the Science Olympiad National Championships at Cornell University. Five team members (Sydney Sill, Nina Tedeschi, Ekansh Agrawal, George Culver and Clara Xin) won gold medals and three of those national champions were awarded $10,000/year in scholarships.
Molly DeMarco Receives President's Volunteer Service Award
Molly DeMarco '19 received the President's Volunteer Service Award in recognition of her outstanding community service. She completed more than 100 hours of community service last school year, including the painting of three murals on walls in the school, painting sets for the high school musical "Big Fish," teaching dance classes to pre-school children and volunteering at Goff's Halloween Happening.
Sam Koblensky Named National Merit Scholarship Finalist
Sam Koblensky '19 was named a National Merit Scholarship finalist this past spring after scoring in the top 1 percent of the 2018 PSAT/National Merit Scholarship Qualifying Test. Only 15,000 students were named finalists out of more than 1.6 million who took the test nationwide.
Columbia Boys' Varsity Bowling Wins Section 2 Championship
The Columbia boys' varsity bowling team rolled its way to its first ever Section 2 Class A Championship in February at Boulevard Bowl in Schenectady. The Blue Devils won the tournament by knocking down 6,207 pins, more than 300 pins better than runner-up Colonie.
Genet Students Finish in Top 10 of National Math Competition
Two students from Genet Elementary School finished in the top 10 of a national online math competition in January. Out of more than 11,000 students, Bhaswati Kar and Taylor Lawrence placed 3rd and 8th, respectively.
Raychelle Adadjo Wins Statewide Music Competition
Raychelle Adadjo '23 won a statewide music competition for original musical composition through the New York State School Music Association earlier this year. As a winner, she had her composition titled "Soaring at Sunset" performed at the state music conference in December in Rochester, N.Y.
Columbia Boys' Indoor Track Wins Back-to-Back Section 2 Championships
The Columbia Boys' Varsity Indoor Track team won the Section 2 Championship at UAlbany, making it back-to-back titles for the Blue Devils.
Goff Science Olympiad Places 4th at New York State Finals
The Goff Science Olympiad Team placed 4th at the New York State finals competition in Syracuse in April. Only 39 teams qualified for the state finals out of 242 middle school teams from across New York State.
Nicole Presti '19 Receives National Honor Society Scholarship
Nicole Presti '19 was awarded a prestigious National Honor Society Scholarship worth $3,200. She was one of only 600 students from across the United States to receive the scholarship.
Columbia Wins Best Musical at High School Musical Theatre Awards
The Columbia Players won Best Musical at the 2019 High School Musical Theatre Awards at Proctors Theatre for their performance of "Big Fish." It was the second year in a row winning the category.
Jenna Almon Named One of '13 Kids Who Care'
Jenna Almon '21 was named one of the Capital Region's 13 Kids Who Care by News Channel 13 for her tutoring of younger students at Green Meadow Elementary School.
Columbia Students and Teachers Receive YMCA Awards
Zachary Marx '19, Adam Riley '19, Molly DeMarco '19 and Gabriella Hochberg '19 were honored at the 2019 Rensselaer County YMCA Outstanding Student and Educator Awards at Hudson Valley Community College. The event recognizes service-focused high school students from the YMCA and community, and those educators who are critical to their success.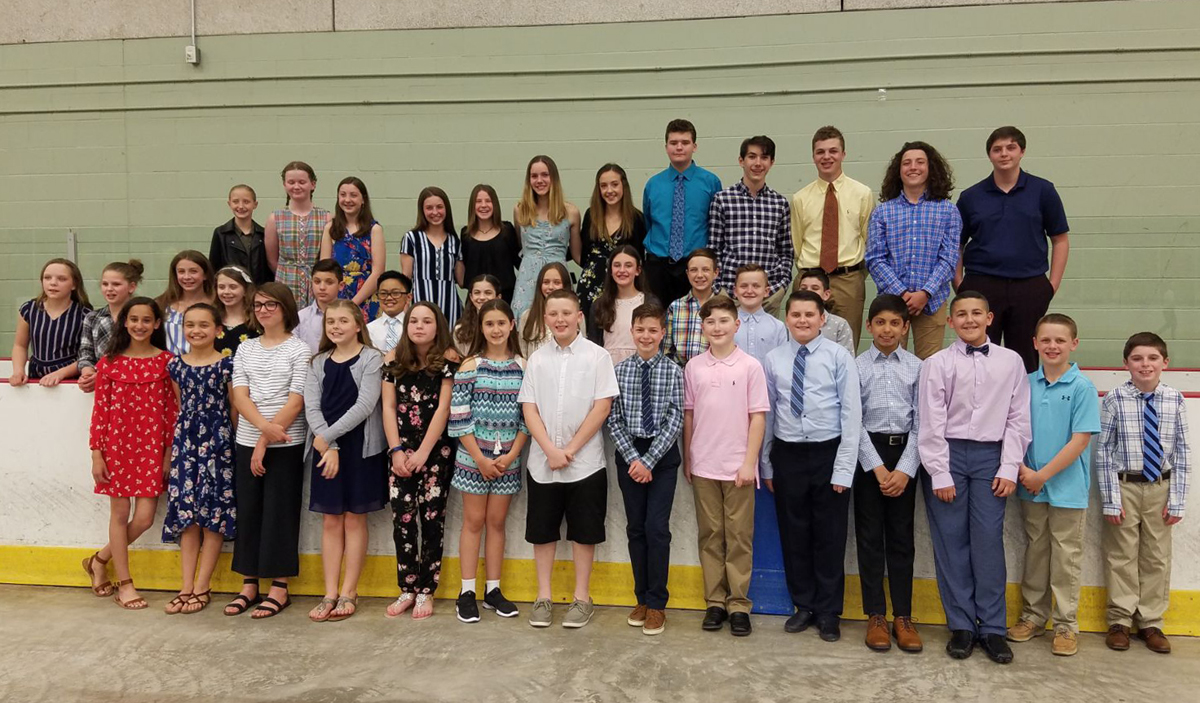 Students Receive Physical Education Leadership Awards
More than 40 students from East Greenbush Central School District received Physical Education Student Leadership Awards at the Sandra G. Morley Physical Education Leadership Awards at Hudson Valley Community College in May. Students from schools across the Capital Region were nominated based on their citizenship, outstanding athletic ability and leadership in physical education.
Students Receive Spotlight on Youth Awards
Nine students from East Greenbush Central School District were honored at the Town of East Greenbush Spotlight on Youth Awards ceremony in May for their exemplary citizenship.
Albert Chang Inducted Into Bell Ringers Hall of Fame
Albert Chang, who attended Bell Top Elementary School and graduated Summa Cum Laude from Columbia High School in 2018, was inducted into the Bell Ringers Hall of Fame in June at a school-wide assembly.
Logan Plowinske and Schuyler Lorette Qualify for Girls' Golf State Championships
Columbia girls' golfers Logan Plowinske '20 and Schuyler Lorette '20 made history by playing for the first girls' golf team in school history, and then qualifying for the New York State Girls Golf Championships.

Congratulations to the Columbia Class of 2019!
More than 300 students graduated in June, earning their high school diplomas from Columbia High School. Most have begun their freshman years of college, while others have started trade school, joined the military or entered the workforce. Best wishes to all of our graduates!
2019 Year in Review