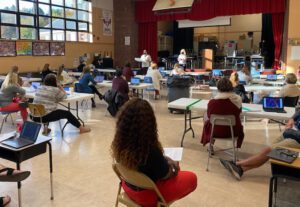 Approximately 40 faculty, staff and administrators participated in the first of three Cultural Responsiveness Training sessions on Wednesday at Bell Top Elementary School as part of the East Greenbush Central School District professional development program.
School staff learned about defining bias, culture and cultural responsiveness and engaged in a discussion of the Lewis Model. The training was led by Sandy Strock and Jodi Sullivan from RBERN Questar.
The Cultural Responsiveness Training is aligned with the Board of Regents' framework on Diversity, Equity and Inclusion for all New York State Schools that includes 4 Principles of Culturally Responsive-Sustaining Education:
Creating a welcoming and affirming environment

High expectations and rigorous instruction

Creating inclusive curriculum and assessments

Ongoing professional learning for faculty and staff
"Our cultural responsiveness training follows these principles to best ensure that all students feel welcome in our schools and that we continue to nurture environments that are built on trust, respect, caring and relationship-building," said Assistant Superintendent for Curriculum and Instruction James McHugh, who plans the district's professional development.
The remaining sessions are scheduled for November 17 and December 15. Those sessions will focus on bias, cultural considerations, and building a positive culture and student-centered culturally responsive framework.