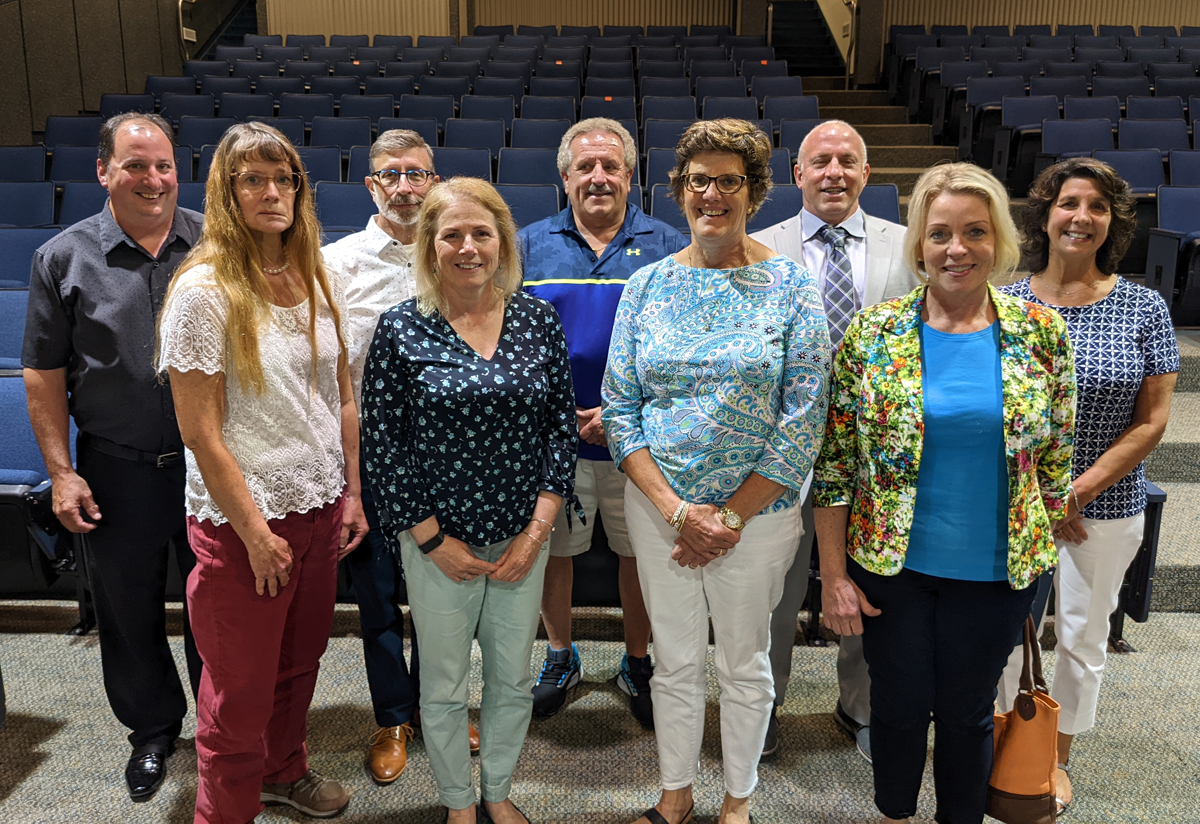 More than 30 staff members who are retiring from the East Greenbush Central School District this year were recognized for their service at Wednesday's public Board of Education meeting in the Columbia High School auditorium.
The retirees represent all areas of the school district – teachers, administrators, bus drivers, custodians, nurses, secretaries and other support personnel – and have all had a positive impact on students over the years.
"We will miss your contributions to our family," said Superintendent Jeff Simons. "We will miss seeing you on a day to day basis. But we also take comfort in the fact that you have served the community so well in helping our children receive their education."
Congratulations and best wishes!
Randy Brown, Bus Driver, Transportation
Edward Carey, Bus Driver, Transportation
Cherie Chin, Typist, Columbia
Joanne Clum, Teaching Assistant, Columbia
Elizabeth Cohoon, School Nurse, Goff
Linda Cook, Teaching Assistant, Red Mill
Harold Crowley, Bus Driver, Transportation
Kathleen DeFruscio, School Nurse, Green Meadow
Mary Beth Duncan, Teaching Assistant, Goff
Maybelle Fairchild, Teaching Assistant, Green Meadow
Leonard Fudge, Science Teacher, Columbia
David Greene, Science Teacher, Goff
Robert Halek, Music Teacher, Genet/Green Meadow/Red Mill
Richard Jones, Physical Education Teacher, Bell Top/Genet
Kevin Kelley, Senior Custodian, Columbia
Sheree Kelley, Teaching Assistant, Columbia
Lorraine LaVoie, Music Teacher, Goff
Marguerite Leger, Occupational Therapy Assistant, DPS/Genet/Green Meadow/Red Mill
Lisa McDonald, Elementary Teacher, DPS
James McHugh, Assistant Superintendent of Curriculum and Instruction, Central Administration
Linda Pavlick, Teaching Assistant, Goff
Judith Regitano, Typist, Transportation
Stacey Richards, Bus Driver, Transportation
Phyllis Sanford-Krug, Food Service Manager
Karen Sheridan, Social Worker, Genet
Lisa Shuler, Aide/Senior Monitor, Transportation/Goff
Linda Staszowski, Elementary Teacher, DPS
Vicky Tillman, Typist, Transportation
Joanna Viola, Data Entry Machine Operator, Technology Department
Donnamarie Vlieg, Science Teacher, Goff
Tamara Wager, Senior Typist, Columbia
Steven Zoller, Custodian, Green Meadow