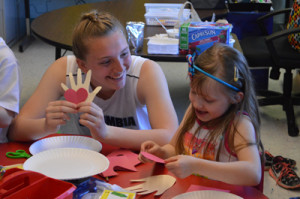 After sending handwritten letters back and forth this school year, students from Columbia High School and Red Mill Elementary School met for the first time last Monday. Freshmen in Meagan Asenbauer's English class visited their first and fourth grade pen pals at Red Mill, where they shared breakfast and participated in classroom activities.
"This gives the freshmen a chance to let their inner-child out while offering the younger students the opportunity to work with someone who, although older, still remembers the magic of being a child," Asenbauer said.
This is the fifth year Columbia and Red Mill students have practiced writing and learned the format of letters by having pen pals.
The Columbia students made crafts with Jessica Stickles' first graders and solved team-building puzzles with Misty Hayes' fourth graders.
"Our students were so excited to meet their pen pals," Hayes said. "A project such as this makes learning fun and engaging. That's what we want to promote."