All students take music in elementary and middle school. Students take general music in grades K-5. Additionally, all fourth grade students take chorus and fifth grade students have the opportunity to join the school chorus, band or orchestra program.
Grades K-5
General Music (required for all students)
Chorus 4 and 5
Band 5
Orchestra 5
Teachers – Maggie Glennie, Bob Halek, Jacqui Nagy, Lawrence Perez, Megan Scolaro, Jon Tario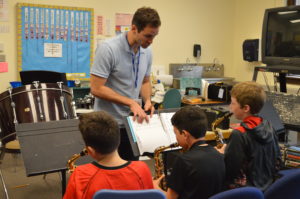 Grades 6-8
Chorus
General Music (for students not in a performing group)
After school opportunities – jazz band, drama club, guitar club
Teachers – David Bresnahan, Hannah Decker, Lorrie Lavoie, Nathan Lawrence
Grades 9-12
Orchestra
Chamber Orchestra
Music Theory
After school opportunities – jazz band, rock orchestra, drama club
Teachers – Shellie Badger, Sue Chrzan, Scott Halliday, Jon Kusche
Columbia graduates have attended prestigious music universities including:
Berklee College of Music
College of St. Rose
Eastman School of Music
Hartt School of Music
Hartwick College
Ithaca College
Juilliard Pre-College
Manhattan School of Music
Oberlin Conservatory
SUNY Fredonia
Crane School of Music at SUNY Potsdam
SUNY Purchase
Click here for more information about the East Greenbush Music Program.
News
Goff Jazz Band Wins 1st Place at Music in the Parks Competition
-
The Goff Jazz band performed at the Music in the Parks competition at Westfield State University in Massachusetts on Friday. The Jazz Band performed: "Can't Buy Me Love" arranged by Michael Sweeney "Fly Me to the Moon" arranged by Michael Sweeney "Crank It Up" by Patrick Broadbent At the awards ceremony that followed, the Goff […]
Spring Concert Schedule
-
Students from around the East Greenbush Central School District will be performing at spring concerts over the next six weeks.
Goff 8th Grade Band Earns Gold Rating at NYSSMA Majors
-
The Goff 8th Grade Band earned a Gold Rating during its performance at the New York State School Music Association (NYSSMA) Majors adjudication festival on Tuesday, which was held in the Columbia High School auditorium. The band, under the direction of Goff Music Teacher David Bresnahan, was awarded a Gold Rating for demonstrating an "outstanding […]