All students take music in elementary and middle school. Students take general music in grades K-5. Additionally, all fourth grade students take chorus and fifth grade students have the opportunity to join the school chorus, band or orchestra program.
Grades K-5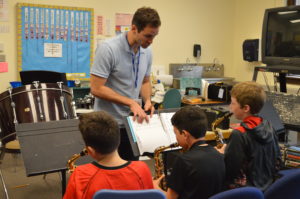 Grades 6-8
Chorus
General Music (for students not in a performing group)
After school opportunities – jazz band, drama club, guitar club
Teachers – David Bresnahan, JoAnne Gabriels, Hannah Decker, Lorrie Lavoie, Nathan Lawrence
Grades 9-12
Orchestra
Chamber Orchestra
Music Theory
After school opportunities – jazz band, rock orchestra, drama club
Teachers – Shellie Badger, Sue Chrzan, Scott Halliday, Jon Kusche
Columbia graduates have attended prestigious music universities including:
Berklee College of Music
College of St. Rose
Eastman School of Music
Hartt School of Music
Hartwick College
Ithaca College
Juilliard Pre-College
Manhattan School of Music
Oberlin Conservatory
SUNY Fredonia
Crane School of Music at SUNY Potsdam
SUNY Purchase
Click here for more information about the East Greenbush Music Program.
News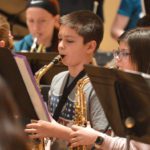 2020 Instrumental Festival
-
Fourth graders from across East Greenbush Central School District had the opportunity to hear older students play all of the instruments in the music program as part of the 2020 Instrumental Festival this week. The two-day concert is meant to showcase musical options for students before entering 5th grade. It is also an opportunity for […]
2020 District-wide Choral Festival
-
Students from across East Greenbush CSD performed at the District-wide Choral Festival on Thursday morning in the Columbia auditorium. Each school's chorus performed a song on stage under the direction of their music teacher while the other schools enjoyed the show.
String Ensemble Performs at State Education Department Award Ceremony
-
Students from the Columbia Orchestra Program were invited to perform at the State Education Department in Albany earlier this month for a Service Award Ceremony.