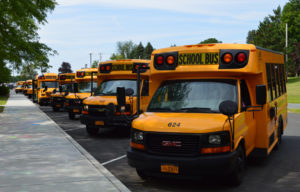 The East Greenbush CSD transports nearly 4,500 students to more than 50 schools encompassing four counties twice a day. Our department is proud of our DOT inspection rating, which is 99.2% (with 100% being the highest rating).
Our fleet of 103 school buses are maintained by experienced district mechanics and inspected by the DOT every six months.
All of our school bus drivers have undergone rigorous training before they get behind the wheel – including:
background checks with fingerprinting
passing a DMV road test and earning a class B license
passing a "physical performance test" that tests coordination, strength and stamina
passing a doctor's physical
regular drug testing
50+ hours of classroom and on the road training
We are proud of our safety record and service to the community. Our number one goal is to provide the safest transportation possible for our children!
If you are having difficulty locating your student's bus route, or have any other questions or concerns, please do not hesitate to call us at (518) 477-9288.
Be safe and enjoy the school year!
Mark Noeth
Transportation Supervisor
News
Board of Education Adopts Proposed Budget with No Tax Levy Increase; Goes to Vote on May 18
-
The East Greenbush CSD Board of Education adopted the proposed school budget for 2021-22 at Wednesday's public meeting. It will be voted on by district residents on Tuesday, May 18. The proposed budget totals $103,535,117 and includes a tax levy increase of 0.0%.
One New COVID Case Reported to East Greenbush CSD, No Others Quarantined – March 21
-
The East Greenbush Central School District has been informed that an employee from the Transportation Department has tested positive for COVID-19. There was no exposure at school related to this case. The employee's last day at work was March 12.
Special Transportation Requests for 2021-22 Due April 1
-
Parents of resident students in need of transportation to a private or parochial school or to a daycare/alternate location MUST submit an application for transportation no later than April 1, 2021 for the 2021-22 school year.