Hello Genet Families!
This week Genet went Gold in support of Childhood Cancer Awareness Month. Thank you to everyone who supported the cause from our staff and students!
This coming week will be an "A" Week for Specials for students.
Wednesday, October 5th there is NO SCHOOL for students in observance of Yom Kippur.
We had our second fire drill this week and our students exhibited their listening skills and exited the building quickly and quietly. It was a sight you had to see to believe! Genet will continue through the end of this month and October with completing the additional required safety drills before the cold weather arrives.
Today we closed out this month's character education trait with our monthly assembly. Several students were recognized for their hard work and exemplary behavior. Students who demonstrated our character trait of integrity were awarded a Pride Paw! Classrooms who exhibited integrity and following directions were awarded classroom banners as well. This month's recipients were:
Ms. Bradley's Class – PE
Mrs. Chieco's Class – Art
Mrs. Giagni's Class – Library
Mr. Brewer's Class – Music
5th Grade – Cafeteria
Students who were recognized by staff for exhibiting Integrity this month were:
Colin Barnes
Milana Barrie
Alessia Boniface
Jack Brewer
Ahtziri Cazarin
Jimmy Craig
Ethan Crewell
Jacob Daley
Mason Dende
Jaxon Earing
Owen Elliothrope
Valerie Fink
Ari Fitzgerald
Tom Forster
Link Fowler
Lina Greene
Morgan Hallenbeck
Ryan Hayashi
Jordan Herrington
Audrey Hipps
Laila Jones
Kavin Kadimi
Connor Keenholts
Teagan Kettlewood
Eli Kidalowski
Eli Kidalowski
Ella Klugo
Abigail Knowles
Sahana Kuppireddy
Peter Kyaw
Skye Lind
Peighton Lurie
Anthony Magnetto
Ace Muriel-Quinones
Chase Myers
Aaron Nwaefuna
Shaan Patel
Violet Patrick
Jules Phillips
Jacob Plonka
Aria Priddle
Emilia Puspurs
Jerlani Reeves
Jonah Rickard
Nolan Roberts
Althea Santarcangelo
Hunter Shastany
Aimon Shatraw
Paige Smith
Mason Smith
Christian Taylor
Ivy Thaw
Madeline Whitcher
William Winter
Carter Wood
Emmagen Young
Minahil Zaeeshan
Areeba Zaheer
Stephanie Zheng
Congratulations to all our recognized classrooms and students for their outstanding work this month! We look forward to learning more about October's character trait of Courage and talking about Anti-Bully Month! 4th Grade will be putting on the presentation for next month.
Genet's Fun Friday Recap:
Our first Fun Friday is in the books and it was a huge hit with our students. The creativity that was seen among the students and the Genet Team was truly amazing! Thank you to all that participated! A special shoutout to our PTO and their volunteers who helped setup the music and popcorn stand for out students! I cannot wait to see what our next Fun Friday will bring! Here are some photos from today: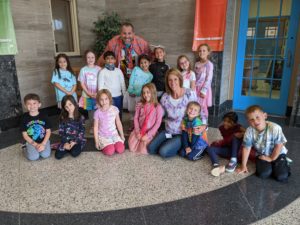 Genet Goes Gold:
Thank you to all who were were able to participate this past Wednesday "Going Gold" in support of Childhood Cancer.  We had a tremendous turn out from students, families and the Genet Team!    Here are a few pictures from Wednesday:
AIS Letters:
As mentioned last week, the recent Renaissance assessments were administered and finalized last week. As a school, we use this data to assist in making the determination if your child qualifies for Academic Intervention Services (AIS). If your child qualifies, you will receive information regarding which service (ELA or Math) from the AIS teacher. Letters have started to be mailed out from Genet to families. If you have any questions regarding them, please do not hesitate to contact your child's teacher or the AIS provider.
I hope you all have a wonderful weekend and an even better week ahead! Thank you for your continued support of Genet Elementary School!
Sincerely,
Wayne Grignon
Principal
View Genet Journal (must be signed into ParentSquare)