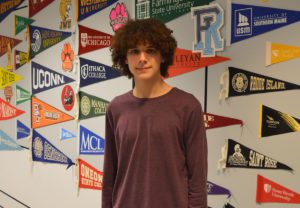 Columbia High School senior Sam Koblensky was recently named a National Merit Scholarship finalist, meaning he remains eligible for one of the 7,500 Merit Scholarships given out nationwide this spring.
Mr. Koblensky was named a National Merit Scholarship semifinalist in the fall after scoring in the top 1 percent of the 2018 PSAT/National Merit Scholarship Qualifying Test.
Only 15,000 students were named finalists out of more than 1.6 million who took the test nationwide.
"It's a nice recognition," said Mr. Koblensky, who plans to major in mechanical or aerospace engineering at college in the fall.
Mr. Koblensky is one of the top students at Columbia with a 4.0 GPA. He competes on the Columbia Science Olympiad team, which just won the NYS Championship, the Math League team, and plays in the school Jazz Band.
"Sam Koblensky is intrinsically a problem solver, who possesses an inquisitive mind as demonstrated in our championship Science Olympiad competitions frequently earning gold medal status," said Columbia School Counselor John Evertsen. "Sam's engaged problem solving approach, organizational skills and planning style are his strengths. This is all indicative of Samuel Koblensky – a meticulous, conscientious and highly effective technician; qualities of a truly promising future engineer/scientist."