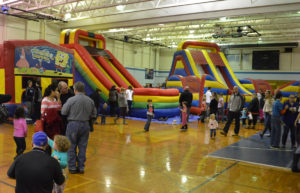 The popular community event Winterfest will be returning the weekend of January 13-15. Events include a 6th Grade Activity Night on Friday, January 13, a full day of family friendly events and programs on Saturday, January 14, and a Rock N' Bowl on Sunday, January 15 at East Greenbush Bowling Center.
Winterfest is being organized by the East Greenbush Education Foundation, the PTOs and the East Greenbush Central School District. Check out the full schedule below!
Friday, January 13
Activity Night for Grade 6

6-8 p.m. at Goff
Cost is $5 per student. Wristband must be purchased in advance. Permission slip required.
Saturday, January 14 (all events at Goff Middle School)
Goff Middle School's Famous Pancake Breakfast

8:00-10:00 a.m., Goff Cafeteria
Cost is $10 per person and tickets can be purchased at the door

Class of 2023 Used Sports Equipment Sale

8:30 a.m. – 3:00 p.m.
Each item will sell for $1 (even skis and bikes)
Proceeds to benefit the Columbia Class of 2023
Donation drop off Friday, January 13 from 5:30-8:00 p.m. at Goff Middle School

Smoke Bus

10:30 a.m. – 1:30 p.m.
Participate in this hands-on demonstration of School Bus Safety

EGPD Car Seat Check

10:30 a.m. – 12:30 p.m. (appointments preferred)
East Greenbush police officers will conduct free car seat checks for the public in the Goff parking lot. Call 518-479-2525 and ask for Sgt. Herrington to make an appointment.

Birds of Prey Show

11 a.m. – 1 p.m.
Presented by The Wildlife Institute of Eastern NY and includes owls, hawks, eagles and falcons

3D Printing Demo

11 a.m. – 1 p.m.
Demonstration hosted in the Tech Lab

Drone Demonstration

Throughout the day
Presented by the CHS Drone Club

Mad Science Show

Shows at 1 p.m. and 2 p.m.

Food, Crafts and Bounce Houses
Sunday, January 15
Sunday Night Rock N' Bowl

3:30-5:30 p.m. and 6:00-8:00 p.m. at the East Greenbush Bowling Center
Fee required