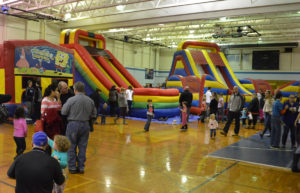 East Greenbush Central School District is hosting its 30th annual WinterFest the weekend of January 17-19. There will be food, crafts, activities, bounce houses and fun for the whole family! Check out the fun-filled activities listed below.
Friday, January 17
Activity Night for Grade 6 at Goff (6-8 p.m.)

Cost is $5 per student. Wristband must be purchased in advance. Permission slip required.
Saturday, January 18 (all events at Goff Middle School)
Goff Middle School's Famous Pancake Breakfast, 8:00-10:30 a.m., Goff Cafeteria

Cost is $5 per person and tickets can be purchased at the door

Smoke Bus, 11:30 a.m. – 2:30 p.m.

Participate in this hands-on demonstration of School Bus Safety

Community Chess Club

Games all day in the Goff Library
Simultaneous Chess Expo at 1 p.m.

YMCA's GaGa Pit

GaGa Ball is a fast paced, high energy game played in an octagonal "pit." This is a fun, simple game for all ages.

Goff PTO Used Sports Equipment Sale, 9 a.m. – 3:30 p.m.

Donation drop off Friday, January 17 from 5-8 p.m. at Goff Middle School or Saturday, January 18 in the Staff Room

Food, Crafts and Bounce Houses throughout the day
Food Service Menu

Walk Around Taco Salad – $4.00

Cheesy Fries – $2.50

Variety of Beverages including Coffee

Frozen Yogurt from 16 Handles
Sunday, January 19
Sunday Night Rock N' Bowl, 8-10 p.m., East Greenbush Bowling Center