All this week we're reflecting on 2019 and the great moments from the East Greenbush Central School District. Here's a look back at some of the top stories from our website over the last 12 months.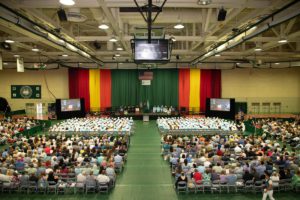 District Graduation Rate Ranks 2nd in Capital Region
January 31, 2019
East Greenbush Central School District's four-year graduation rate of 95% for the Class of 2018 was the second highest graduation rate of all school districts in the Capital Region. Other bright spots for East Greenbush CSD included an increase in Regents Diplomas with Advanced Designation and students with disabilities had an 87% graduation rate (5 point improvement from previous year).
Goff Middle School Addresses Hunger with New Backpack Program
February 4, 2019
Goff Middle School announced a new backpack program that would provide low-income students with backpacks filled with nutritious and easy-to-prepare food over the weekends when they were not able to receive their free lunches at school.
Columbia Accepting Prom Attire Donations
March 29, 2019
With Prom season quickly approaching, Columbia High School began accepting formal wear donations so that all students would be able to attend this fun and memorable event. Dozens of beautiful prom dresses were donated and then housed in The Closet, the school's free clothing store, for students to browse.
Columbia High School and Siena College Sign Early Assurance MBA Agreement
April 4, 2019
Officials from Columbia High School and Siena College signed an Early Assurance Program agreement, to establish a pathway for high school students to matriculate to Siena on pace to earn a B.S. and MBA – in four years.
District Named a Times Union Top Workplace for 2nd Year in a Row
April 15, 2019
For the second consecutive year, East Greenbush Central School District was named a Top Workplace by the Times Union in a special publication. The district was one of only 10 Capital Region organizations to be recognized as a Top Workplace in the large employers category (300+ employees) and the only school district included in the publication.
Voters Approve School Budget and Bus Purchase
May 21, 2019
East Greenbush Central School District residents passed a $95.9 million budget for the 2019-20 school year on May 21, as well as the bus purchase proposition that would replace eight school buses out of the Bus Purchase Reserve Fund. It is the 25th consecutive year that the community has approved the proposed school budget.
Columbia Science Olympiad Places 11th at National Championship
June 6, 2019
Columbia placed 11th out of the 61 competing teams at the Science Olympiad National Championships at Cornell University. Five team members (Sydney Sill, Nina Tedeschi, Ekansh Agrawal, George Culver and Clara Xin) won gold medals and three of those national champions were awarded $10,000/year in scholarships.
Columbia Adds Five College-Level Courses for 2019-20
June 24, 2019
East Greenbush Central School District continued its push to offer college-level courses at Columbia High School by approving five college-level courses for the 2019-20 school year. The new courses included Advanced Studio Art, Personal Finance, Intro to Computer Science, Music Fundamentals and Psychology, and all would be taught at Columbia for college credits.
Columbia Wins 7th Consecutive State Sportsmanship Award
June 28, 2019
For the seventh year in a row, Columbia High School won the state sportsmanship award from the New York State Public High School Athletic Association (NYSPHSAA). A total of 243 schools were eligible for the banner award after submitting the Sportsmanship Promotion Survey to NYSPHSAA.
East Greenbush CSD and EGPD Partner on 'Operation Red Lights'
September 5, 2019
East Greenbush Central School District and the East Greenbush Police Department launched 'Operation Red Lights' at the beginning of this school year to remind all motorists to exercise caution around school buses. As part of the program to help keep children safe, East Greenbush Police Department patrol cars followed buses and monitored bus stops for any drivers who illegally pass school buses.
District to Continue Studying School Start Times
November 15, 2019
East Greenbush Central School District held three community forums this fall to discuss school start times and their impact on educational outcomes. Following those meetings, and based on the feedback from students, parents, teachers and staff, Superintendent Jeff Simons informed the school community that the district would continue to study school start times and not implement any changes for the 2020-21 school year.